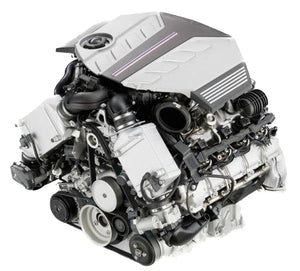 Custom tuning for F90 is available for pump gas, race gas, full E85 and E85 blends. Upgraded turbo and E85 tunes may require Port Injection or Methanol Injection. 
These are results that can be expected with stock turbos on an average reading Dynojet in good ambient conditions:
Some of the available map features  :
Top speed limiter removal

Exhaust flap adjustments

Cold start (cat heating on startup) removal for quieter cold start

Cat efficiency check (CEL) removal for de-cat downpipes (for off-road use)

Maps for upgraded turbos

E85, Ethanol blends, race gas and meth injection tuning

Custom Pedal Mapping

Linear torque curve maps

Traction management by rpm/gear

Road course, 1/4mi Drag, and 1/2mi specific tuning. 

Backend Flash maps for use with piggybacks

Custom burbles with greater aggression/adjustment range than OTS maps.  

Gunshots/flames tuning (requires full decat)
Customized i-Drive sport gauges
______________________________________
Our custom tunes require the remote tuning platform Bootmod3 by Pro Tuning Freaks.   BM3 licenses can be purchased here https://www.protuningfreaks.com/
Once you have purchased a custom tune from us and have activated your BM3 license you will need to request a custom tune within the BM3 app.  Here's how:
Within the Bootmod3 app you would go to your "My Maps" screen and click the button at the top "Request Custom", then choose  "Paul Johnson Tunes".   In the description/comments list your mods, fuel(tested eth% etc), and goals for the tune.
Once we receive your payment and your BM3 tune request Paul will prepare the base map for you to flash. 
Once the base map is flashed to the vehicle you will datalog the car.  Paul will review the logs and make the necessary revisions to the tune based on the logs. 

_______________________________________
BOOTMOD3 by Pro Tuning Freaks is the world's First custom flash tuning platform for the BMW F and G series vehicles.

Cloud based solution with a web based interface for use with a laptop or with our mobile apps built for iOS and Android!

Developed and tested in-house from the ground up since its debut in November 2016 with new features and updates being added regularly makes the bootmod3 platform a custom BMW factory DME tuning solution like no other on the market since.
Build the ultimate tune for your S63TU4 engine powered vehicle and go from stock to full race calibration, and everywhere in between, with a map switch in the provided mobile app. bootmod3 calibrates the factory vehicle modules over the OBD port in a matter of minutes in the convenience of your driveway or anywhere internet access is available.
bootmod3 app and cloud services offer many unique features not found in any other flash tune including and available TODAY:

Mobile app (iOS and Android) and Web (http://www.bootmod3.net) 

including Windows and macOS support

Datalogging hundreds of diagnostic channels, up to 40 channels concurrently
Datalog sharing and charting without a need to upload to 3rd party websites or apps using the mobile app or web browser
Cloud based storage for map data and datalogs
Reverting back to stock performance map and re-locking the DME to stock programming
Live Dash - realtime vehicle parameter monitoring via in-app gauges
Diagnostics
Read and clear trouble codes in all vehicle modules
Reset learned adaptations (octane, knock, Valvetronic, etc)
ECU power reset
For more info on BM3 take a look at the FAQ here!
*** OBD ENET cable required, available separately (Amazon $20)
*** bootmod3 OBD WiFi Agent device is not required to use the bootmod3 platform. It is a convenience option that removes the need for using a laptop in the car when using bootmod3's features. If you're looking to simply load a tune on the car without much datalogging and monitoring then using your laptop is the ticket for you.
*** 2019+ F90 M5 models with November 2019 software require OBD unlock. If  you have received a November 2019 or later software update contact support@protuningfreaks.com for details
For more information please email us at sales@protuningfreaks.com or refer to our Instagram and Facebook accounts.